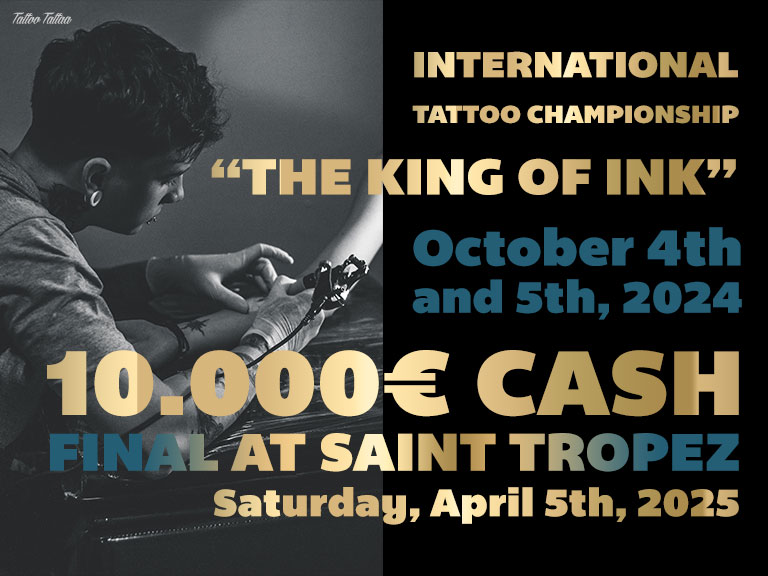 Welcome to the International Tattoo Championship
The King of Ink 2024!
We are excited to announce that the International Tattoo Championship 2024 will be held on October 4th and 5th, 2024. This thrilling event is the world's first global, international tattoo championship taking place online! No matter where you are in the world, you can participate and showcase your talent.
Experience two days of absolute excitement on our website www.schickmedia/thekingofink. Follow the action-packed competitions, admire the creativity and mastery of the participants, and immerse yourself in the thrill of this international event.
The grand finale will take place on Saturday, April 5th, 2025, in Saint-Tropez. The top three contestants will give it their all to win the coveted title. Flight/transportation and accommodation will be generously provided by schick.Media Agency/TattooTattaa _ community.
Furthermore, the winner of the competition will be announced on the same day and will receive the generous prize of €10.000 in cash! As the "King of Ink," you will not only gain international recognition but also be rewarded with a significant prize.
Don't hesitate and be a part of this extraordinary event. Showcase your artistry and be inspired by the international tattoo community. This is your chance to be a part of a historic moment.
Register now and submit your documents by June 10th, 2024, to participate in the International Tattoo Championship 2024. Visit our website www.schickmedia/thekingofink for more information and details.
Prepare to establish your name as the King of Ink – an international legend of tattoo art. We look forward to seeing your outstanding creativity and welcoming you to Saint-Tropez!
Good luck!
Your King of Ink Team
---
REGISTRATION
Welcome to the Tattoo Championship 2024! Here you will find all relevant information for registration – step by step:
1. Fill out the registration form: Download the registration form and fill it out completely. Make sure that all information is correct and complete.
2. Send the completed registration form: Send the completed registration form along with all necessary details to thekingofink@tattoo-tattaa.de by June 10, 2024.
3. Copy of ID: Include a copy of your ID, both the front and back.
4. Five impactful photos of previous work: Upload five high-resolution photos of previously executed works in the Black in Grey and Color categories. Ensure that the photo quality allows for an appropriate evaluation. Please note that the smallest tattoo in each category must have a minimum size of 8 cm, while the largest tattoo can have a maximum size of 25 cm.
5. Receipt of official information: Once we have received all your data, we will send you the official information regarding the process and further procedures of the Tattoo Championship.
The Tattoo Championship 2024 will feature a total of 1000 artists. The top 100 will be invited to the championship on October 4th and 5th, 2024, via a link. After confirming your participation through a confirmation email, you will receive further information about the exact schedule.
We look forward to your participation in the Tattoo Championship 2024 and wish you good luck!
---
APPLICATION FORM
---
GUIDE FOR THE APPLICATION PROCESS AT "THE KING OF INK" 2024
Introduction:
Welcome to the video tutorial for the application process at "The_King_of_Ink" in the year 2024! To ensure that you navigate the application process smoothly, we have created this comprehensive guide. Follow these steps to successfully apply and avoid any unnecessary difficulties.
STEP 1: ENSURE YOU HAVE ALL THE REQUIRED DOCUMENTS.
Before starting the application process, make sure you have all the necessary documents. These include the application form, a copy of your identification document, and your references. Ensure that your documents are well-structured and error-free.
STEP 2: ONLINE APPLICATION.
"The_King_of_Ink" only accepts applications online. Visit the official website of the company and look for the section where you can apply. Carefully fill out the application form and send it to thekingofink@tattoo-tattaa.de. Make sure to fill out all the required fields and upload your documents in a supported file format.
STEP 3: APPLICATION REVIEW.
After submitting your application, it will be reviewed by the HR team at "The_King_of_Ink". This process may take some time. We recommend regularly checking your email inbox as you may receive a confirmation or notification email.
STEP 4: PHONE OR VIDEO INTERVIEW.
If your application is favorably reviewed, you will be invited to a phone or video interview. Be well-prepared and demonstrate your motivation and expertise. Ensure a calm and uninterrupted environment during the interview.
STEP 5: ACCEPTANCE TO THE CHAMPIONSHIP 2024 "THE KING OF INK".
If you emerge successful from the application process, you will receive an official invitation to "The_King_of_Ink". Take sufficient time to address any questions or concerns before accepting it.
CONCLUSION:
The application process at "The_King_of_Ink" 2024 can be an exciting and challenging experience. By following this guide, you minimize possible issues and increase your chances of a successful application. We wish you the best of luck and hope to welcome you soon to the team at "The_King_of_Ink"!
---